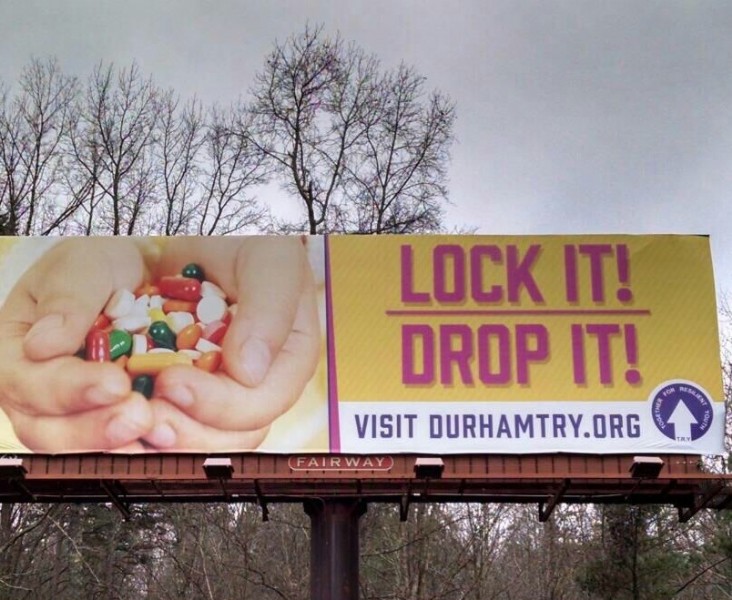 Drop off locations:
Durham County Justice Center 510 South Dillard Street,
Durham County Sheriff's North 11821 U.S. 501 North, Rougement
Durham Police Department District 2 Substation, 5285 N Roxboro Rd
Durham Police Department District 3 Substation, 8 Consultant Pl
Durham Police Department Headquarters, 505 W Chapel Hill St
Carolina Behavioral Care Pharmacy, Ben Franklin Road
DRUG OVERDOSE PREVENTION
The obituary said Clay Shephard was the youngest of four children and was raised in a loving home in in Apex with his two brothers and a sister. "Outwardly Clay looked like he had it all: Intelligence, confidence, athletic ability, height, beautiful blue eyes, broad smile, fantastic wit, and the ability to engage and forge a relationship with anyone. Inwardly Clay was sensitive and had struggles that he hid well from his close and clannish family," the obituary said. "We loved Clay with all of our hearts, but we now know that was not enough to shield him from the world. ..."Although Clay could never be completely honest about the trouble he was in, his love and respect for his father became a lifeline over the last few years," the obituary said. "He successfully completed drug rehab several times, but the craving that comes from true addiction was more than he could overcome." "While we always felt we had some grip on Clay's issues, his ability to hide and disguise his addiction proved superior to our parental (and sibling) sixth sense."The obituary closed by saying, "Goodbye Clay, we love you and miss you dearly. Mom & Dad, Cole, Wade & Jess, Jean & Lucas." OVERDOSE IN NC click
TIPS
1. NEVER TAKE SOMEONE ELSE'S MEDS
2. TAKE ONLY AS MUCH AS YOU NEED
3. TAKE ONLY FOR AS LONG AS YOU NEED IT
4. TAKE AS DIRECTED
TIPS FOR PREVENTING OVERDOSES
The best way to not overdose is not to use drugs, but if you do, please follow the below recommendations
*Know what you are taking, if you don't call Poison Control at 1-800-222-1222
*Know the drug your are taking's strength (Is it 2mg vs. 80mg)
*Know the drug you are taking's length (Is it short acting, long acting or extended release)
*Don't mix your drugs (this includes alcohol, benzos, anti-depressants, cocaine)
WHAT AN OVERDOSE WITH A DEPRESSANT
LOOKS LIKE
*Unresponsive to outside stimulus
*Loss of consciousness
*May be awake, but unable to talk
*Breathing is very slow and shallow, erratic, or has stopped
*Pulse (heartbeat) is slow, erratic, or not there at all
*Body is very limp
*Face is very pale or clammy
*Fingernails and lips turn blue or purple
*Choking sounds, or a gurgling noise
*Vomiting
WHAT AN OVERDOSE WITH A STIMULANT
LOOKS LIKE
*Racing pulse
*Loss of consciousness
*Pressure, tightness or pain in chest
*Difficulty breathing
*Headache, ringing in the ears, dizziness
*Foaming at the mouth
*Profuse sweating, or failure to sweat
*Grossly enlarged pupils
*Muscle cramps
*Inability to urinate
*Nausea and vomiting
*Shaking, or seizures
Naloxone 101
Section Written by: Phil Hanson, MPH, Robert Childs, MPH and Michael Wilson, MPH
Naloxone (also known as Narcan®) is a prescription medicine that reverses an opioid overdose, which can be caused by prescription analgesics (e.g., Percocet, OxyContin), and heroin. Naloxone will only reverse an opioid overdose, it does not prevent deaths caused by other drugs such as benzodiazepines (e.g.Xanax®, Klonopin® and Valium®), bath salts, cocaine, methamphetamine or alcohol. However, naloxone may also be effective for polysubstance overdoses such as a combined opioid and alcohol overdose. It cannot be used to get high and is not addictive. Naloxone is safe and effective; emergency medical professionals have used it for decades. For more detailed information, visit www.drugs.com/pro/naloxone.html
NALOXONE VIDEO (VETERAN'S AADMINISTRATION)
The Durham County Department of Public Health has now joined a growing number of health care service providers offering naloxone kits in the community. For more information about this new service, as well as other programs and services offered by the Durham County Department of Public Health, call 919-560-7600.
DISPOSE OF UNUSED MEDICATIONS!
DROP BOX LOCATIONS
Durham County Justice Center 510 South Dillard Street,
Durham County Sheriff's North 11821 U.S. 501 North, Rougement
Durham Police Department District 2 Substation, 5285 N Roxboro Rd
Durham Police Department District 3 Substation, 8 Consultant Pl
Durham Police Department Headquarters, 505 W Chapel Hill St
Carolina Behavioral Care Pharmacy, Ben Franklin Road
LOCK IT! DROP IT!
This project will address prescription drug abuse in Durham through a community-based drug abuse prevention program including coalition building, data collection and monitoring, education of medical care providers on safe prescribing, community education, and school-based drug education.
Data
In the US 52 million people over age 12 used prescription drugs non-medically in their lifetime (drugabuse.gov). Over 1,000 people in NC die from prescription drug overdose each year (NC Division of Public Health). In 2013 there were 16 deaths in Durham County related to prescription drugs and a total of 119 deaths between 2004 and 2013. According to a US Department of Health and Human Services national survey, among ages 12-17 prescription drugs are the second most abused (behind marijuana). In one study 40% of teens said that they thought it was safer to abuse prescription drugs versus illegal drugs and 30% believed prescription painkillers were not addictive (Partnership Attitude Tracking Survey, 2006). 64% percent of teens that abuse painkillers receive them from family or friends without their knowledge (National Survey on Drug Use and Health, 2008). 25% of students completing the 2014 Youth Risk Behavior Survey in Durham reported taking a prescription drug without a doctor's prescription. This project "LOCK IT! DROP IT! (LIDI) is multipronged. LIDI will educate 12-17 year olds, parents and community members on safe prescription drug use and on the dangers of misusing prescription drugs. LIDI seeks to prevent access to prescription drugs at home, school and in the community. LIDI will engage youth, parents and community members in spreading the word broadly to their peers as prevention educators.
Collaboration: TRY's, Executive Director, with 25 years of prevention experience, Wanda Boone is a member of the NC Governor's Task Force on Substance Use and Gangs, Mayor's Poverty Reduction Initiative Health Subcommittee Co-Chair, Health Committee Chair Durham Committee on the Affairs of Black People, Member City-Wide Districts Partners Against Crime, Vice Chair Northeast Central Durham Leadership Council, Member Duke Population Health Improvement Leadership Advisory Board, Member School Advisory Group for the Duke Integrated Pediatric Mental Health Collaborative, Project Lazarus grantee, National Institute on Drug Abuse spotlight partner and Member Community Anti-Drug Coalitions of America. These key relationships are important to the success of LIDI.
Each TRY coalition member is part of a unique population that will share and implement LIDI strategies within their representative organization or stakeholder group. These members include youth, parents, City Councilmen, County Commissioners, Durham County Sheriff, Durham Police Department, Durham Congregations in Action, Durham Public Schools, Duke Center for Child and Family Policy, Deputy Director Health Department, Duke Chronic Pain Initiative, Juvenile Justice Institute at NCCU and Alliance Behavioral Health.
TRY has been involved in prevention (tobacco, alcohol, marijuana) for 13 years and prescription drug prevention for 4 years. Executive Director Wanda Boone has over 25 years of prevention experience. TRY donated 4 of the 7 permanent drop boxes currently used in Durham. TRY has trained over 60 youth as change agents and reached over 3,000 youth during 3rd quarter of 2015. Youth reach 110,000 daily on social media. TRY youth created messages: No sharing allowed!, Works for you but may harm me, Not yours? Don't use and YouTube videos such as "It's Not Candy" They have written articles and made presentations to local officials. TRY youth will be at the forefront of LIDI. Youth teams will share monthly messages with their peers, parents, city council/employees, county commissioners/employees, pediatricians, pharmacists, pharmacies, faith groups, law enforcement/districts, Durham Public Schools and businesses.
From a Mom
Wanda, - Since O became a member of Durham TRY, she has created awareness about the danger of prescriptive drugs. She always remind me to keep prescription drugs locked up. She told me about how many people are addicted to medications because of ignorance. She doesn't even want the Tylenol for severe cold in the medicine cabinet because it is not for children. I am glad that she is more knowledgeable and knows the danger of drugs or substance abuse. I can't be more proud of her. Drug addiction has become the malaise of the society, creating awareness to youngsters may curb the increase of drug addiction.
Thank you
HB
Strategic Action Plans include:
TRY donated and placed 5 drop boxes in Durham - 3 at Sheriff's locations, one at a pharmacy and one at NCCU
Trained student leaders to talk to their peers and parents about Rx drugs reaching over 500
Educated 2000 College Students on Rx drugs 2015/2016
Made Rx part of Drivers Ed Curriculum
Working with Duke Med Center on Naloxone distribution to many sectors and school nurses
Working on Prescribing practices
Working with Emergency Staff
Working with parents and familiy members on signs and symptoms and Naloxone
Getting data from school officers and criminal justice on prevalence
Evaluation plan authored by TRY and Duke
Youth participate with Sheriff's Department on Operation Medicine Drops around the City!
Media reach over 1,000,000,000 - billboard, news, tv